Return to Headlines
From Newcomer to GED Graduate - A Tale of Resilience and Determination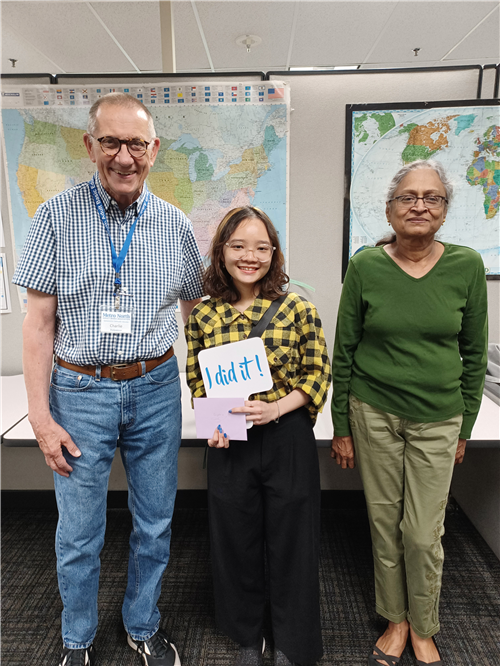 In August of 2022, Sophie Pham embarked on a new chapter in her life as she arrived in the United States. Little did she know that her path would lead her to the Metro North ABE, where she would undergo a remarkable transformation in a relatively short span of time.
Within just a few short months of her arrival, Sophie's journey at the Metro North ABE began. Starting in Level 2A in October of 2022, her dedication and commitment to learning quickly became apparent. Her progress was so remarkable that within days, she was transferred to Level 4, a testament to her academic potential.
However, Sophie's thirst for knowledge and growth didn't stop there. March of the following year saw her transition to Level 5/6, a move that highlighted her continuous determination to challenge herself. Almost immediately, she was promoted to Level 7, showcasing her exceptional adaptability and rapid learning.
A defining moment in Sophie's journey came in June of 2023 when she completed her GED after only three months of study in Level 7. This achievement was a testament to her relentless pursuit of educational excellence and her ability to grasp complex concepts with remarkable speed.
Sophie's experience at the Metro North ABE was not only marked by academic accomplishments but also by the connections she forged and the supportive environment she found. In her own words, "The first place I spent a lot of time when I came to America is this school. I learned many things when I was here. People and teachers are very kind and friendly. They are people I met when I was new to America, and they gave me a good impression about Americans. I know more places to go, more knowledge to live in the U.S. I always feel safe, peaceful, and relaxed when I studied here. I really love this school, so, if possible, I will be back to this school to see everyone again."
Sophie's journey is an inspiration to all who encounter her story. Her determination, adaptability, and the warm connections she formed at the Metro North ABE paint a picture of a young woman who fearlessly embraced new challenges and emerged victorious.
The Metro North ABE is privileged to have played a role in Sophie's journey, and her testimonial and pictures serve as a reminder of the incredible impact that education, coupled with a supportive community, can have on an individual's life.
As Sophie's story continues to unfold, we eagerly anticipate the next chapter in her journey, confident that her determination will lead her to even greater heights. Her story is a reminder that with the right mindset and support, any obstacle can be overcome, and dreams can indeed become reality.