Return to Headlines
Learning to start a business at Metro North ABE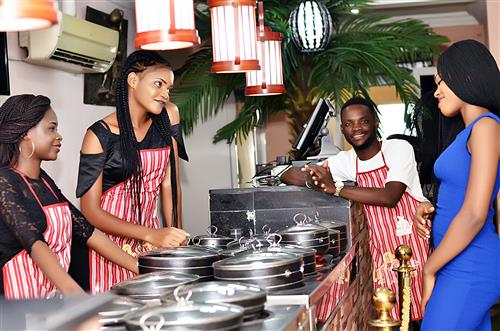 The Minnesota Chamber Foundation made a bold statement in the March 2021 report, The Economic Contributions of Immigrants in Minnesota. "The success of Minnesota's economy, both now and in the future, is intrinsically linked to Minnesota's immigrant communities." The report showed that Minnesota's immigrant community complements rather than competes with Minnesota's native workforce. As workers retire and new jobs are created, our immigrant community helps fill retirees and come with high skills for new jobs. Immigrants and refugees also create new jobs. Across the nation, immigrant and refugee populations are more likely to be entrepreneurs. Entrepreneurship plays an important role in our state's economy through job creation, innovation, and increasing the GDP.
"In Minnesota, there were over 18,000 immigrant entrepreneurs as of 2018," the report states. "Their firms employed 53,239 workers, representing about 2% of the state's total labor pool. Yet despite these positive numbers, Minnesota's immigrant entrepreneurship rate lags the rest of the country." The percentage of foreign-born entrepreneurs in Minnesota is less than half the national rate, 7.7% of the foreign-born national population are entrepreneurs while only 3.7% of foreign-born Minnesotians are entrepreneurs.
There are many reasons why Minnesota might be seeing fewer immigrant entrepreneurs. State demographer Susan Brower points out that younger immigrants "haven't had time to age into business ownership." It takes time for immigrants to accumulate capital and develop the business knowledge necessary to start a business.
While Metro North ABE is not a source of capital for new businesses, we can be a place where immigrants and refugees gain the knowledge and skills to open a business. Exploring how we could have a greater role in solving Minnesota's entrepreneur gap, we reached out to our learners and asked how many of them would be interested in learning more about starting a business; twenty-five learners replied. Most surprisingly, about half of these learners already had businesses started and were looking for help to expand their businesses. We referred these learners to other supports in our community. This response led us to offer a four-week course to introduce entrepreneurship.
Bai Vang, the College and Career instructor, led the class. Bai was the perfect leader for the job, having started her own business. She is passionate about small businesses, especially small businesses started by people of color. "I understand what it's like to go through not knowing who or where to look for information about starting a business. I wanted to teach this class so that information would become available to students who were in that situation."
The course began with how to use technology, in this class and business, and then defined some common business terms and concepts. Then learners started to develop their ideas; exploring market research, what a business plan entails and thinking about sales and costs. The course ended with resources that are available in the community. The class concluded with a panel of community business leaders who evaluated students' business ideas.
While one student who participated in the panel, Kunchok, had some experience with getting loans and renting a car for hire, she appreciated the breadth of the class and being able to share her plans with experts. "It was really nice, I thought all the panelists were really listening. It made me feel like I could really do this."
Carrie Mikkonen, Anoka County's business advisor through a partnership with the Metropolitan Consortium of Community Developers (MCCD) "Open to Business" program, was excited to hear of Metro North ABE's efforts to help fill the entrepreneur gap. But she also cautioned us, that many students have high skills after learning at Metro North ABE, but don't have the industry-specific experience to launch and run a successful business. "Many factors contribute to the success of a small business, however, one of the most important and perhaps overlooked factors contributing to the success of a new business is having industry experience." She encouraged students to look at their current job experience and develop their business ideas using the skills they have developed. Carrie recommends that students find a mentor in the industry and work in the field where they plan to open a business. If you plan to open a restaurant, work in a restaurant to learn the trade, or work in a coffee shop as a barista or manager if you'd like to open a coffee shop. Gain knowledge and experience before investing in a business. Not only will this help you determine if the industry is right for you, but many skills can be learned by spending time in that environment. While you need every credential or a ton of experience before you try launching your business venture, being equipped with as much industry knowledge and experience beforehand will only help set your business up for success.
While Metro North ABE is very good at helping learners gain English proficiency and graduate with a high school equivalency, we know that is not the only education adults need. We will continue to expand learners' access to the skills they need to succeed. Whether that is higher education, workplace skills, or starting a business. So that our learners can be the leaders of a stronger Minnesota economy.