Return to Headlines
Word of mouth is our best advertiser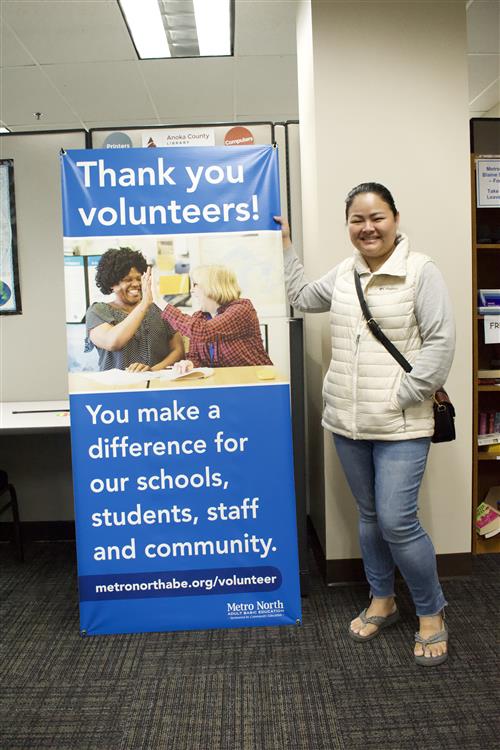 Every day at Metro North ABE is special, but some days just really stand out. When Mulang's brother wanted to focus on his education and get his GED, she brought him to the Blaine Learning Lab. This is where she went to school to get her GED in 2013 and she has fond memories of learning here.
Mulang came to the United States in 2005 from Cambodia. Immigrating at 19 years old was hard. Learning a new language, understanding the culture, and always feeling the need to work to support her family was a challenge. In Cambodia, Mulang had to balance supporting her family business and going to school. That made it hard to graduate high school. Now that she was in America, she wanted to push herself to go to school and make education a higher priority. "I knew I didn't just want to have a job and not do more, I needed my GED," Muylang said. "I wanted to learn English. It is so important."
Mulang started at Metro North ABE in our Pre Lit English as a Second Language class. "I was so shy at first. I didn't want to speak English. But the teachers kept encouraging me. They would say, 'Muylang, you have to speak. What did you do today? What is your plan?' I was always strong in math, but the teachers needed to push me in English.
There were many teachers who helped Muylang along the way. She would like to thank her teachers: Molly, Amber, Donna, Tav, Chelsea, and the volunteer Rob. "The teachers were great at explaining. When I didn't do well on a test, they convinced me that I could do better and that I was making progress."
Mulang didn't just learn English and math, she learned workplace skills that you can't learn anywhere else. "When I was at Metro North ABE, I had to work with my classmates from around the world. It helped me in my job now. I work with people just like my Metro North ABE classmates. Each of us is from a different country. Each of us is different. I learned something about other cultures from my classes at Metro North ABE and now, I understand that people might react differently or say something that is different from how I would talk, but I learned to not be shy, just like learning the words of English, I learned how to share with people from around the world."