Return to Headlines
Federal funds to strengthen adult basic education programs across the state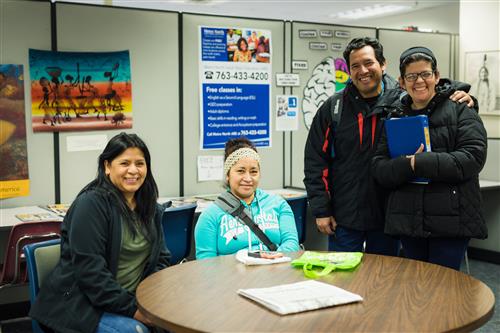 On May 18, Governor Walz announced that Minnesota will use flexible federal American Rescue Plan (ARP) dollars to support academic enrichment and mental health services starting in the summer of 2021. This is a tremendous opportunity for learners, families, educators, communities, and schools as we come back from the pandemic. Included in this announcement is an allocation of $10 million to strengthen Adult Basic Education programming statewide. These funds will ensure access to and enhance the quality of, Adult Basic Education (ABE) programming.
Metro North has worked diligently since this announcement to identify where funds could best be allocated. In these conversations, leadership, staff, and learners have identified under-resourced areas and strategized how to grow our programming. These conversations addressed what our learners will need in the fall, a year from now, and ten years from now. We have experienced a great deal of change in this past year; while we are excited to hold in-person classes once again, we also see that innovations in delivering programming have great rewards.
Metro North was fortunate to receive $622,120 In one-time funding for this school year to build our capacity to serve adult learners in our community. We adopted a twelve-point plan to build and sustain enhanced programming into the future:
Goal # 1: Increase learner access to technology to enable equity in participation in online education/DL platforms
Goal 2: Increase site-based technology to enhance staff's ability to deliver quality lessons as well as site-based learner access to technology
Goal 3: Increase staff capacity through training and PD delivery
Goal 4: Increase the number and variety of class options available to learners to meet differing learner goals and availability
Goal 5: Increase our supply of testing materials and staffing to enable the move to online testing and increased access for learners
Goal 6: Increase infrastructure at sites to enhance the learner experience and teacher impact
Goal 7: Increase availability of new and additional forms of distance learning platforms
Goal 8. Enhance the quality of the curriculum and instructional materials being utilized by staff
Goal 9: Increase and enhance partnerships with employers, businesses, and other Careerforce partners to serve more learners and assist them in achieving job/employment-related goals
Goal 10: Increase learner awareness of the availability and benefits of ABE programming and how it will help them achieve their goals
Goal 11: Increase our awareness of learner needs/differences through enhancement of learner's voice and awareness/connections with diverse communities and their cultures
Goal 12: Increase learner awareness of college and career preparedness skills and process
We are grateful that the State of Minnesota recognizes the importance of adult education. We also realize that learners across our community are going to face increasing challenges as we recover from the pandemic. Before the pandemic, there was a consistent flow of news reports about the disappearance of jobs and how technology will replace repetitive tasks in the workplace. This move to more automation has increased during the pandemic. Now more than ever, there is a call for workers to "reskill", to increase language and communication skills, and acquire certifications.
Adult education is an essential part of this transformation. This funding will help us meet this challenge and provide learners with new opportunities to reach their full potential.