Return to Headlines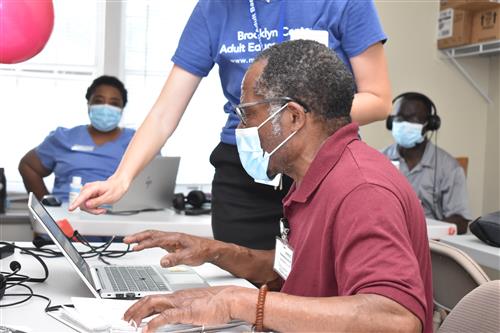 Metro North Adult Basic Education's vision is to provide programs that effectively develop the skills needed by individuals to achieve their goals. Over the last year and a half, this has meant reaching out to learners while they are at home, work, in their cars, or anywhere where we could connect with them. Not only did our learners' places of learning change, but the skills they needed also changed. As essential workers, many were required to adjust how they performed their jobs, including working with new technologies to provide services our community depends on. To support learners during this change, we expanded our workplace learning programming. Workplace learning is a partnership with companies and Metro North ABE, offering effective training programs that can meet new workforce needs. Applying our expertise in education increases current employees' workplace skills, saving companies money and time.
Adult Basic Education Workplace Learning happens when community partners come together to coordinate work schedules and increase academic or workplace skills. Metro North provides instruction at learners' places of work during, or around, their shifts, strengthening the workforce's specific skills to meet the needs of greater communication skills, higher math comprehension, and increased technological capabilities.
Ecumen, a leading advocate for older adults across four states, reached out to Metro North to help implement a Workplace Reading and Technology Skills grant from the Minnesota Department of Human Services Aging and Adult Services. Metro North created a curriculum that addressed digital literacy, reading, and job skills specific to learners' work at Ecumen. Ecumen provided a place to hold classes in learners' work schedules and encouraged employees to participate.
Learners met in a conference room at the Ecumen Prairie Lodge in Brooklyn Center, twice a week for over 16 weeks. Led by Tatyana De La Riva-Blinova, a licensed teacher who has been teaching with Metro North for the past five years, the class engaged Ecumen Registered Nursing Assistants and House Maintenance staff in learning exercises that directly related to their roles in the organization.
"I think it was really great, different from a regular class," Tatyana said. "I was really able to target learners' application of the skills I was teaching. Instead of trying to teach to a scenario in a textbook, I could say, 'you can use the mouse and keypad like this when you need to enter your time in the computer after assisting a client like I saw you do before class.'"
The class motivated learners to learn more, picking up technology skills they never thought they would learn; even though the curriculum was fast-paced and rigorous. Learners had increased confidence in using technology on the job and increased their vocabulary to gain greater facility in communicating with clients.