Return to Headlines
An exciting transition will continue to innovate and enhance Metro North's services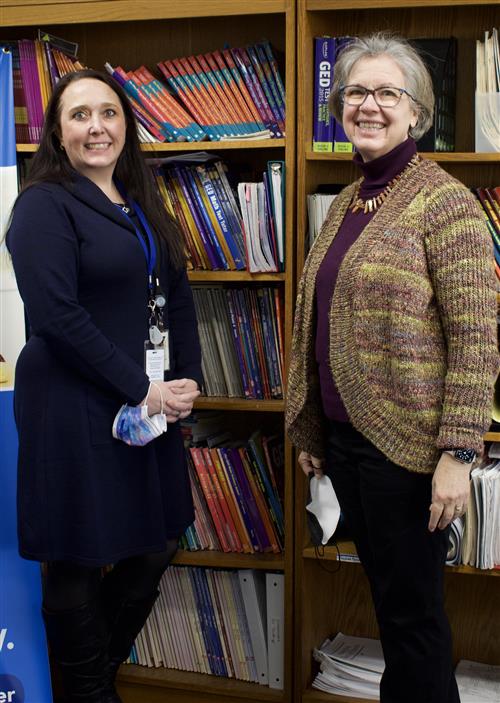 No one can deny, this has been a year of change. As you have read in past articles, as well as those included in this issue, Metro North ABE has embraced a wide variety of changes. Most of these changes created innovative opportunities for our learners, and others, are more bittersweet. Each change is made with the mission of Metro North ABE in mind, as we seek to inspire and challenge all learners to reach their full potential. In a safe, supportive environment, we will teach the skills needed to succeed as responsible citizens in our changing world
As we begin the new year, Metro North ABE will continue to pursue its mission with a new manager. We are very excited to announce that Molly Liberto will fill the role of Community Education Manager in the new year as Theresa Zingery will move into a semi-retirement.
Molly comes to the management position with a wealth of skills, experiences and personal qualities that make her an outstanding choice to help continue the proud consortium tradition of excellence in serving students and continue the advances we have started during the challenges of COVID. She has been working in the field of education for the past 25 years, first in K-12 and then in adult basic education. She has spent the majority of her career working with underrepresented populations, at-risk youth and adults, and immigrants and refugees. She has held many different roles in the past 25 years including serving as a School Improvement Plan Facilitator, teaching in southern California, and working in ABE in both traditional and correctional facility settings. Molly currently supervises our Blaine Metro North ABE site, the two correctional facilities in Anoka, and the central data department. She will begin her new position on January 3rd.
Theresa Zingery has led Metro North for over three years; steering us through the pandemic and all the changes we needed to make to continue to support learners and our community in new and innovative ways. While Theresa will be leaving Metro North, she is not leaving the field of Adult Education. Theresa is starting a new part-time role teaching English as a Second Language to working adults as well as doing consulting assignments in writing, marketing and fundraising. These roles will allow Theresa to have more direct contact with students, which has always been what drives her passion.
The transition between Theresa and Molly will be a smooth and gradual one that will leave the Metro North Consortium poised for even more innovative services for our students and the business and nonprofit communities across our eight school districts.