Return to Headlines
Outstanding Volunteers at Metro North
On Friday, June 4th, our partner in advancing adult literacy, Literacy Minnesota, held the 2021 Annual Awards Ceremony and Journeys Readings. This event is held annually with the adult literacy community in Minnesota. Across the state, organizations that work to advance adult literacy and academic proficiency, come together to celebrate our accomplishments. This year, the event was held virtually. In addition to honoring student's work, the community celebrates outstanding volunteers who have dedicated numerous hours and effort to furthering the lives of Minnesota adults.
Without volunteers, Minnesota would not be able to serve the over 60,000 adults we serve each year and we would be much slower at reaching the heights of our collective abilities. This year, three of the honorees recognized by Literacy MN volunteer with Metro North Adult Basic Education (ABE).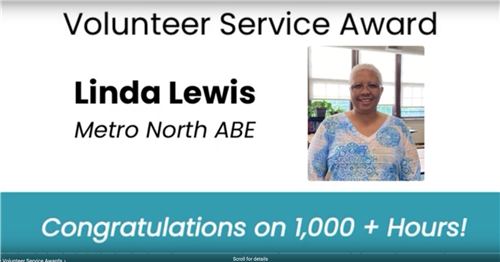 Linda Lewis is a tireless worker who thrives on the community atmosphere at the Elk River Community Education Center. She has a consistent smile for students who drop in for extra help, attend scheduled classes, or just come to share in the warmth at the Handke Center. Linda loves working with our English as a Second Language students and has a special skill in encouraging students to open up and speak more. Her infectious laughter makes it hard not to join in. Linda was acknowledged for volunteering over 1,000 hours with Metro North ABE at this year's ceremony.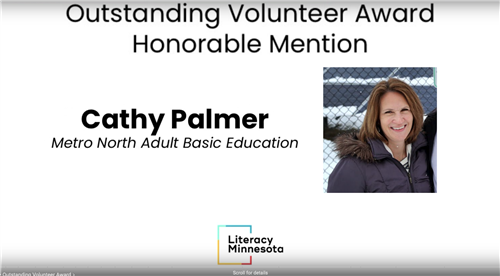 Cathy Palmer was recognized as Honorable Mention for Outstanding Volunteer Award. Prior to volunteering with the Brooklyn Center site, Cathy was a volunteer for two years with the Adult Education Center- Columbia Heights/Fridley. She then accepted a paid position at the Brooklyn Center site for three years as a literacy assistant. After working with the Brooklyn Center Adult Education Center, Cathy returned as a volunteer. She jumped right in when we needed her most, when we were surrounded by Covid19 uncertainty, Cathy helped Metro North students reach their educational aspirations.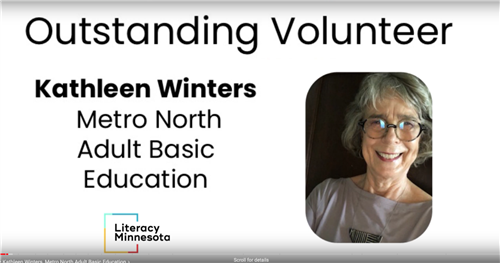 The highest honor for Metro North volunteers went to Kathleen Winters who, like Cathy, moved from a paid position to a volunteer position. A retired K12 French teacher, Kathleen joined the Metro North ABE staff as an ESL teacher back in 2010 and worked in that position for nine years. Kathleen stepped down as a teacher in 2019 and immediately jumped into volunteering. She has been a regular weekly volunteer with the level 2 ESL class at Brooklyn Center for the past two years - including making the switch to online instruction this year. It speaks volumes about her commitment to ABE that she immediately began volunteering after resigning from her ESL teacher position. She has stayed connected to the learners and continues to contribute to their success.
Each year, Metro North depends on volunteers like Linda, Cathy and Kathleen. Without them, we would not be able to provide educational supports to over 2,000 adults. They are an amazing asset to us and all of Adult Education. If you think you could join these amazing volunteers and support students in tutoring or assist in the classroom, please reach out to our volunteer coordinator to find out how you could help.