Return to Headlines
Level 1 students are thriving with distance learning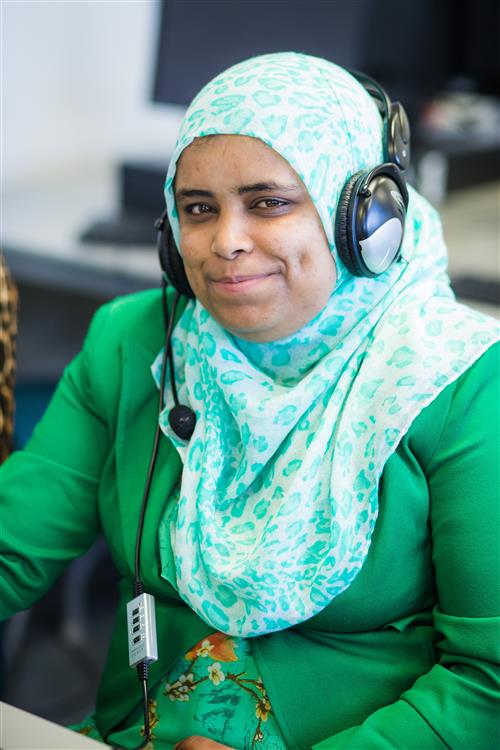 Alime, Alix, and Fereweini are all students of Polina Huffman's level 1 class at the Blaine Learning Lab, and while class has changed due to COVID-19, they all agree that online learning is good.
"It's actually better, and I'd say more intense than when we were in person," says Polina. Morning class still has sessions five mornings a week, but evening classes have gone from two nights a week to four. Polina has broken the class into smaller groups, and the smaller groups get more direct instruction and interaction. "We're constantly together, so I feel like there is more control on my part on what I'm hearing and what they're hearing. They can really see my mouth."
Students are loving the new evening schedule. During spring and summer, Polina had 23 students in the evening. As of October, she has 34. "[A lot of] my morning students moved to evening because of their kids."
The evening class is filled with new and returning adult students, and distance learning has proved to be a blessing to those with children or tight schedules. Alime attends evening class since the time is convenient for her and her family. She is the mother of two children, and during the day she cares for them. Fereweini is a single mother to a five year child, so every morning she makes breakfast for her daughter, and then she attends her morning class virtually. The schedule is perfect for her; she is able to safely stay home with her daughter while still learning English.
The adjustment of the time commitment to attend class has increased students' satisfaction. Polina keeps hearing the same thing from her students: "'What I like is if the class is two hours, I'm only spending two hours!'" Students have more time in their day since they are no longer getting ready for school in the morning like they used to and then transporting to and from school. "[Students say,] 'I know it's two hours; I can commit to two hours.'"
There were challenges for students to come to traditional school, and the switch to online learning has drastically reduced problems for many of them. "Transportation is the biggest part," says Polina. "Transportation: the fact they don't have to stand outside, because for them, right now. . . . it's too cold."
Because of the issue of transportation being removed, some students who had stopped attending class before, have returned. Alix stopped attending class because of transportation, but then he decided to come back with the move to online classes.
Fereweini does not have a driver's license yet; she will be learning in September. Since class is online, she doesn't have to worry about transportation or have to wait to start classes until she has a license. Alime doesn't drive. Her sister in law transports her around, so online class is convenient for her whole family. Alix attends morning class; he used to take the bus to school before the move to distance learning. He is more than happy about online class since he no longer has to worry about taking the bus. He likes staying safe at home yet still learning English, and he now has more time after class since he's not taking the bus.
Initially, Polina had concerns about technology. She wanted to make sure that all of her students had good, reliable technology so that they could thrive in school, and Metro North ABE stepped up to the challenge. "A lot of my students use Chromebooks, our school Chromebooks, so that has been fantastic!" With everyone having a reliable Chromebook with a good web camera, students are comfortable with distance learning.
Polina is loving the integration of technology as well. She found that she actually prefers using the Chromebooks over traditional paper handouts. "I can use so many visuals without wasting paper. . . .I can use color! I've never used color on any of my paper things, my worksheets, and if they don't understand something, I just quickly google it [to show them a picture]."
While students are happy with their distance learning, they do still miss certain aspects of traditional school "Online class is good. Blaine and see teacher is very good," says Alime, but she misses meeting new people. Alix had some difficulties with listening and wifi with online school at the beginning, but he's happy with it now. For Fereweinie, her experience in Polina's class is her first online class ever, and she's had no problems. "Teacher Polina is a good teacher."
For Polina, her communication with her students has never been better. "I have never ever had this much contact with my students away from class." Polina uses Remind (a communication platform for teachers and students to correspond). Students get messages directly on their phone for direct communication. "I like that, and if they have questions, they know how to reach me. . . . That's something I really enjoy."
Even though classes are not meeting in person, Polina feels the sense of community in her classroom is still strong, saying she has a closer relationship with her students than ever before. "I know their living rooms, and I know what their spouses look like and what their kids look like. . . . I've noticed so many of my students' kids come and sit and actually try to learn with me. . . . That is a nice part. I would have never met their family and stuff, and they know my kids." She recalls one of the best experiences she had had so far, "I had one morning, only one morning that this has happened, three generations on one call. I have the grandma and her daughter in my class, and the granddaughter because she was there. . . . It was three on one device, and I thought, how sweet is that!"
Polina is happy with how distance learning has turned out. "We all kind of adjusted in a good way." She hopes that lessons learned during distance learning will improve classes going forward. "I think we're going to learn a lot of good things from this whole experience no matter how long it's going to last."
Caileena Lind, 2020
ABE Volunteer and Outreach Assistant Coordinator