Return to Headlines
Child Nutrition Program leads to a "hopeful future"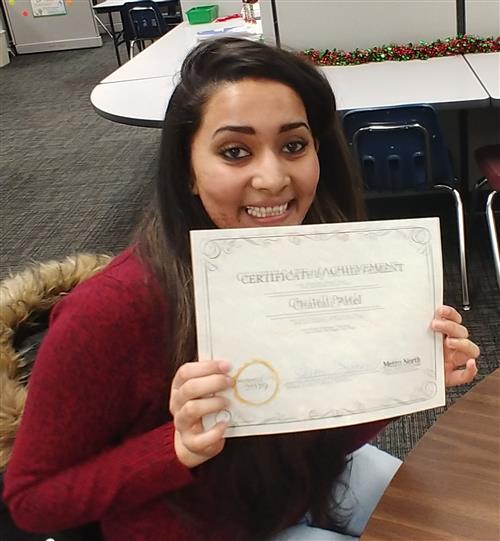 Chaitali Patel is a student at Metro North ABE, and, in addition to her evening classes, she is currently enrolled in the Anoka-Hennepin Child Nutrition Program Internship (CNP). In the CNP, students learn the different policies and work expectations that go along with working in school kitchens, and they gain work experience in a paid internship with Anoka-Hennepin schools.
The CNP internship is her first job, and she's very proud of it. "I'm from India." There, she went to college and earned a Bachelor of Science in Environmental Science. "There was just studies... [In India] most people study first. They complete their study, and then they work." Chaitali married and moved to the U.S. right after college. "I had never worked in India or here."
As soon as she came to the U.S., she wanted to learn to speak English well, so she enrolled in Metro North ABE. That's when Molly Liberto, the Blaine ABE Program Supervisor, came to class to tell the students about the CNP. Chaitali thought, "I'm free, and I want a job, so let's do it!'" She signed up right away.
Chaitali attended her first Wednesday evening class in August, where she met her instructor, Shelly Tallman. Chaitali adds, "She is very good. She helps with everything." The class teaches food safety. The students are working towards a ServSafe certification, which nationally recognizes an understanding of proper food safety regulations and methods.
Chaitali says the material is "very helpful" and that she is building great career skills. "This is a good place for me!"
In the CNP, the students learn about a lot of different things, like temperatures for food safety, how to properly clean a kitchen, the differences between knives and cutting boards, and how to safely cut fruits and vegetables. What Chaitali is learning isn't only useful in her career. "It helps at home. It's helpful every time I cook in my kitchen."
She laughs, remembering the most interesting thing she learned in her CNP class: do not thaw food on the counter. She now knows to defrost frozen food by putting it in the fridge. "A lot of things have changed about food safety in my home."
In addition to class time, CNP students take part in a paid internship, offering $13.65 an hour, from September 2019 until June 2020. Chaitali is working at an elementary school in Blaine. "I really like this job, and all the other employees are good." She stops to laugh, recalling how nervous she was when she started but how confident she is now in her abilities. "They help me a lot!"
Chaitali serves food for kindergarten. "They're very cute. It's good!" She asks every child how their day is, and she loves talking to them. The practice is helping to improve her conversational English.
She arrives at the elementary school at 10:30 AM and leaves at 2:30 PM. "It's a big benefit, and the time is perfect: Monday through Friday for the internship." Her job duties change every week, so Chaitali is learning a lot of different things. She is a fast learner and enjoys the variety. "My supervisor is very good, very helpful, and we have a really good team. Everybody helps each other."
Chaitali thinks she would continue working for the Anoka-Hennepin School District, but it depends on life. She wants to have children, maybe in a year, and a career in the CNP would work wonderfully with a child's schedule. When her child would be in class, Chaitali would be working, and they could travel to school together, but she could also see herself continuing with her ServSafe training. She could earn a manager level certification. With that she could work at a restaurant as a supervisor or manager.
Chaitali's life has changed a lot since starting the CNP Program, and she calls herself lucky to have heard about it. "I have more confidence in myself. I think I can do more and more!" Her conversational English continues to improve as she consistently speaks English, having gone from three evenings of English practice a week to daily practice with her coworkers. Chaitali says she is happy and grateful, and she never stops smiling during the interview.
Chaitali shares that she is a much happier person at work and at home. With the internship, she needed her own car for transportation. Before, her husband drove her everywhere, but now she drives herself to work and school. "I feel free!" When I ask her about her husband, she laughs. "He's happier too!"
For those who are interested in the program, Chaitali says that there is so much good information to learn "for normal life, and it's not a big investment of time."
"If they have kids, this job is perfect for them." Chaitali points out that beyond convenience, it's a great way to know more about a child's school: what is happening there, what they are eating, how the food is prepared, etc. She also points out that someone working in the CNP could have the same schedule as their child.
For those without kids, like Chaitali, it's still a great program. "I have a hopeful future," she says a few times while we talk.
She recommends the Anoka-Hennepin Child Nutrition Program for anyone who is looking to explore careers. "For a first job, it's very good." It's less hours than other jobs, so she can continue her education at Metro North ABE. The CNP is filled with great people, and she likes serving kids. "They always smile, and they keep servers happy."
Caileena Lind, 2019
ABE Volunteer and Outreach Assistant Coordinator