Return to Headlines
Certificate Programs Are Worthwhile

This article was previous published in the Metro North ABE Consortium Newsletter, to see this artricle and more please see the current issue.
There are a number of options for people who already have a high school diploma or equivalent degree but are looking for the next step to help them advance their careers. One often overlooked option is to get a professional certificate in an in-demand career field. Metro North Adult Basic Education (ABE) offers many opportunities for students who are interested in pursuing this goal.
Metro North ABE supports students pursuing a professional certificate in fields such as childcare, direct support professional, or precision sheet metal. Each of these certificate programs offer students access to middle skill careers and jobs that provide entry-level opportunities that can lead, through continuous education, to a stable and growing career that pays a living wage.
For several reasons, launching a career with a certificate is the right choice for many Metro North ABE students. These programs offer comparable wages to jobs that require an Associate Degree, with less time in school, less of a financial investment, and faster placement in a job, allowing students to better support their families and to continue their education.
There is not a lot of data available on how many students pursue this option. This lack of clarity clouds career planning. The certificate path receives less emphasis than two - and four - year degrees, despite the fact that in some cases it might be a better fit.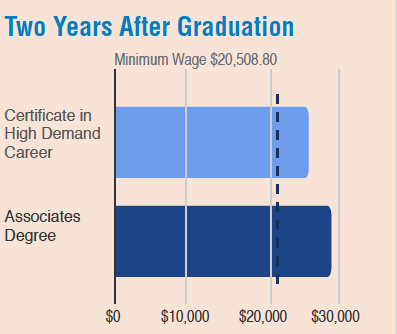 The chart to the right shows additional reasons why this might be a good career preparation option for some people. It shows the annual salary of minimum wage earners compared with Minnesota State data of the annual salary of workers with a certificate or an associate degree. The data indicates that a certificate holder earns a median of $6,000 more than a high school graduate, and this difference increases to $10,000 annually four years after receiving a certificate.
These data indicate that this pathway can be a valuable option for many individuals. It is our goal to help others become aware that this could be a good path for them as well.
If you would like more information about Metro North ABE's certificate programs, join our email list.