Return to Headlines
Metro North ABE career pathway programs highlighted at recent event with local legislators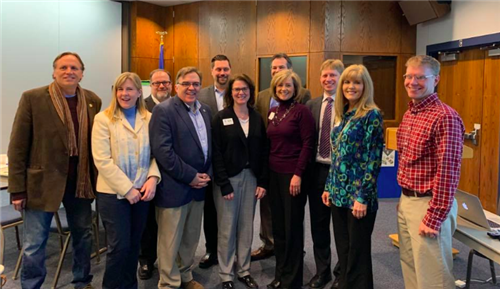 The 'Annual Breakfast with our Legislators' was hosted by the Anoka-Hennepin Community Education Advisory Council, Tues., Dec. 4.

The community education team, advisory council members and community partners enjoyed connecting with local representatives to share information about career pathways programs for Metro North Adult Basic Education - ABE students, and the community partnerships that are in place to support their career and college readiness. View the video highlighting Metro North Adult Basic Education career pathway programs, which was shared at the event.
"It used to be that people came to adult basic education to get their GED or to learn to speak English or improve their English language skills - and that was important because it was the end goal and it was enough for them to enter the workforce," Michelle Trelstad, Anoka-Hennepin Community Education director, said. "Now, that is no longer what is necessary -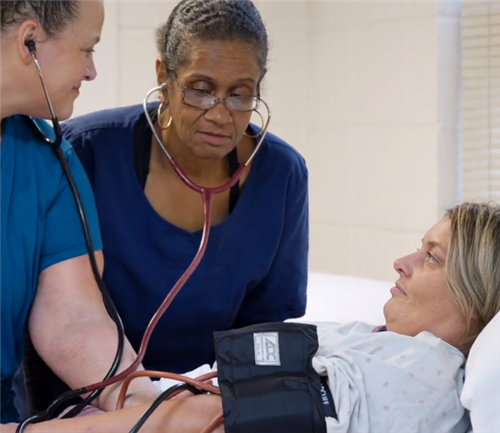 and that is why we started partnering with the Minnesota Department of Employment and Economic Development (DEED), the career force centers, post-secondary education and employers to really help people take that next step."
Adult Basic Education (ABE) consortia across the state offer a variety of career pathway programs. "There's a lot of communication right now within the state of Minnesota - around education, around government, around employers - really trying to figure out creative ways to help us grow," said Tim O'Neill, regional analyst for the Minnesota Department of Employment and Economic Development.
A collaborative network supports Metro North ABE students in acquiring workplace skills and training, and in finding jobs utilizing those new skills in our community. Partnerships between Metro North ABE, Anoka-Ramsey Community College and Anoka Technical College, make it possibile for students to be simultaneously enrolled in Metro North ABE and the colleges to get the hands-on training and on-the-job experience through internships. Oftentimes, students are hired upon completion of the career pathway program and land high-demand, well-paying jobs in our own community.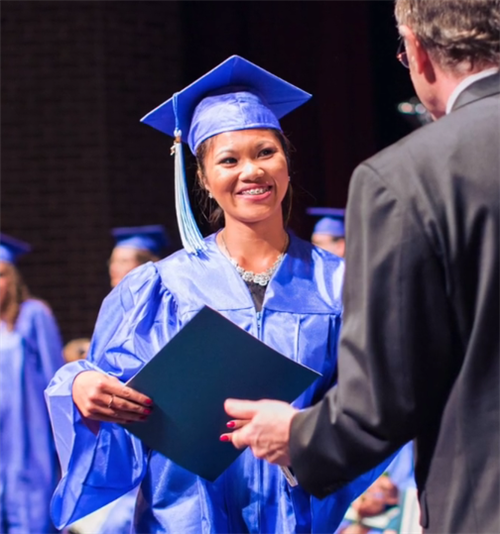 "There are a lot of opportunities when you are looking at career pathways in areas like construction, manufacturing, healthcare and professional business services where you don't need that four-year degree; but with certifications, and career and technical education, you can get on a pathway and find employment in the state of Minnesota where you will [earn] wages at or above four-year degree wages," O'Neill said.
One of the employers Metro North ABE partners with is Crest View Senior Communities - serving patients and residents in Blaine and Columbia Heights. "Being part of a partnership with the Anoka County Workforce Board and the Anoka County Workforce Center and adult [basic] education and all of the local technical schools has played a major role in how we have been able to fill our positions," explained Shirley Barnes, CEO of Crest View Senior Communities.
"Everybody is coming together with the same mission of building tomorrow's workforce," said Nicole Swanson, Director of the Anoka County Career Force Center. The Anoka County Career Force Center works to connect students with career-readiness resources and employers throughout their career pathway journey.

"I've seen the success that can happen," Barnes said. "Workforce development is the greatest legacy that we can leave, and its the greatest need right now."

"When you go to our graduation and an individual [maybe wasn't] successful graduating high school - but because of the training program that they were in - they get their GED, and now they are getting a certificate — and then they were hired — that immediately changes [their] family, and it lifts that family from point 'A' to point 'B,'" Swanson said. "And that is why we do the work that we do."


Related links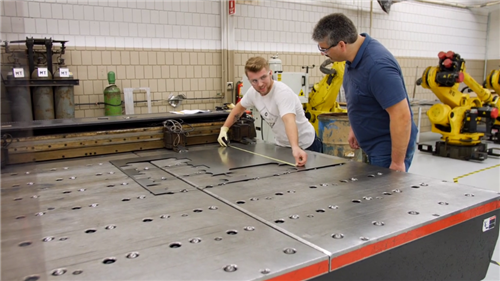 Watch the video about Metro North ABE career pathway programs.
Metro North Adult Basic Education (ABE)
View Metro North ABE consortium members and partners
Anoka-Ramsey Community College
Anoka Technical College
Anoka County Career Force Center
Anoka County Workforce Development Board
Minnesota Department of Employment and Economic Development