Return to Headlines
Those Who Influence Our Lives, Most
On Wednesday, May 2, Diane Hasner's [Blaine site] Level 5 class of 17 students started their class with presentations. Students have been working on their speaking and presentation skills, giving multiple speeches in the last few months. This time around, students were asked to give a speech on the person who influenced them significantly in their life. This person could be a family member, friend, or anyone else who has had a great influence in their life.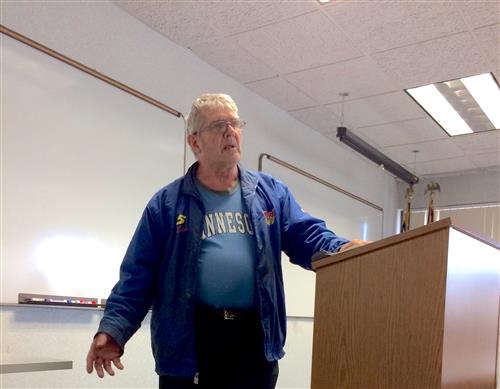 The first speaker, John, described his experience with education as a young man was not a positive one. He never was one for reading, until a wonderful woman gave him a book, The Swiss Family Robinson. That person was his [now] teacher, Diane Hasner. After joining Metro North ABE and meeting Diane Hasner, John's life changed. He witnessed a teacher who truly cared for him and other students so much that he feels motivated to be as helpful as he can, evident in his cheering and coaching other students, encouraging them to do their best with their speeches.
Keith, described the love and motivation of his wife. She knew he couldn't read well and so after he retired in 2009, she encouraged him to go back to school. In 2013 he started school and has felt a day and night difference in his ability to read.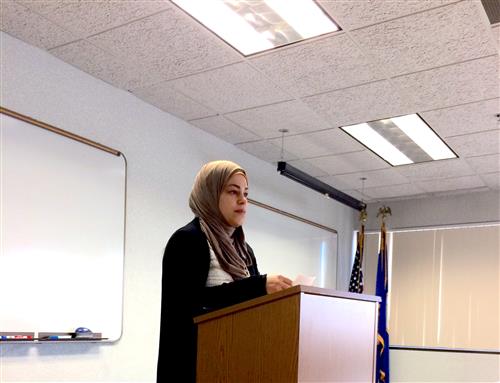 Mannar, a woman who described how she felt there is always someone to help and to be helped by, described the influence of her family. When she first moved to the US, she didn't know a lot about living here and needed to learn English. She was encouraged by her family to go to school. And now, she has her driver license, a job and she feels independent.
Valentina, who seemed very comfortable while speaking spoke about the piano teacher who teachers her sons. This piano teacher is 83 and seems to always be doing something. She works at church, shovels snow in the winter and works hard as a piano teacher. Sometimes when Valentina is tired, she thinks of this woman and gets going again. By just being herself, this piano teacher has taught her to never give up.
Mason talked about his father- a man who worked hard, didn't complain and worked seven days a week. But, Masu also argued with him quite a bit. He had a very complicated relationship with his father that now he sees the positive aspects of. Mason now sees the value of how hard his father worked, why he was so dedicated to his job. His father knew he had to provide for his family and would do his very best to accomplish that. Mason lives by his father's example, working hard, not complaining and staying focused on what he needs to do to accomplish his goals.
We know our students all have amazing stories to share about what brought them to Metro North ABE and what motivates them to continue on with their studies. We are proud of their work and commitment throughout their educational and professional lives.