Return to Headlines
Outstanding volunteers, teachers and students work together to learn.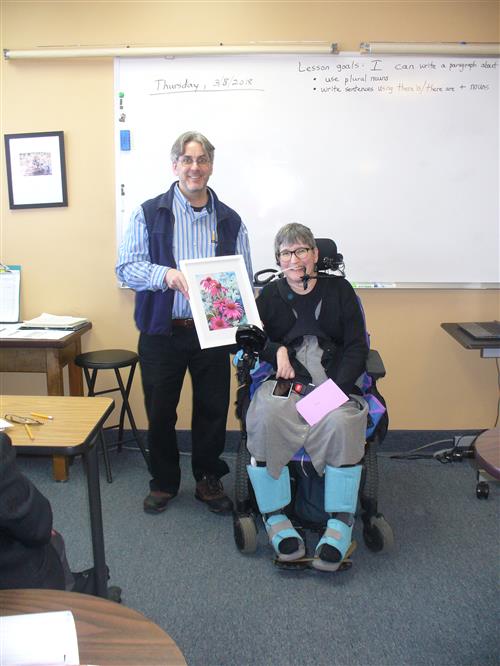 Truly amazing volunteers join our program throughout the year and make a deeply meaningful impact on our program and students. Without them, we couldn't achieve all we are capable of. One such outstanding volunteer is Kate.
Kate joined Metro North ABE in June of 2014. She jumped quickly into our ESL level 2 class at Columbia Heights where she stayed until recently retiring from volunteering in January of 2018. Having completed multiple trainings with us, she took her skill in English, writing and creativity and became a truly outstanding tutor. Working with student 1:1 or in small groups, Kate made close connections with the students in her class. Kate describes how "seeing a student gaining a new skill is very rewarding and I loved hearing people's stories. It made me look forward to Mondays!" Joe, the level 2 teacher, came to know Kate as a reliable, highly skilled and kind volunteer.
We were sad to see Kate retire from volunteering and wanted to take time to share with her how special she is to us. Kate visited her class again where Joe and all the students surprised her with a warm welcome and a token of thanks.
Kate's personal reflections tell even more of the story of her experience and time with Metro North ABE, "I loved volunteering at Metro North. It takes courage to move to a different country with a different language and customs. I like being with courageous people. I like being with people who aren't afraid of difference. It takes a lot of practice to learn a new language. I like being with people who are patient and persistent."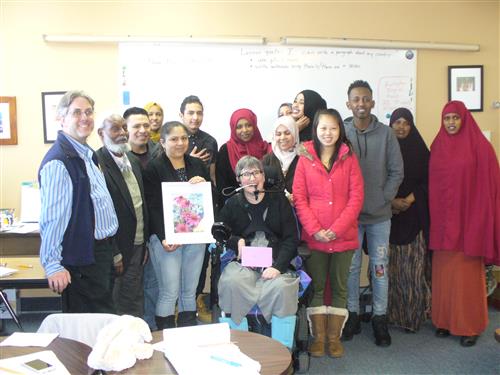 The impact that one volunteer, like Kate, has on an ABE class stems even further than the immediate class. Each of these students know the joy and gifts Kate shared, and hopefully, be able to share those, in turn, with others. As Kate has directly observed, "Students here help each other. I like being with compassionate people. In the classroom, we find people who have very different outlooks on life, but we are working together to learn English. Even though we are working hard, we still are having fun. I like being around people who don't take themselves too seriously."
We are seriously grateful for Kate and all our wonderful volunteers who have this type of amazing impact in our students' lives each day. Kate continues her creative work you can see by visiting her website.