Return to Headlines
Nine tips to succeed as an online adult student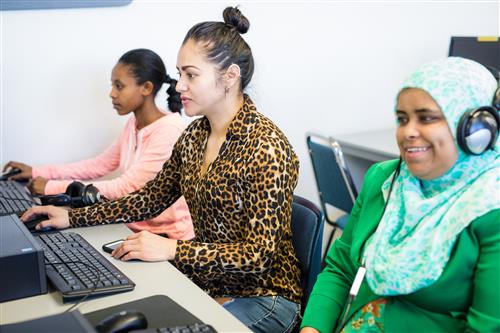 While Metro North is offering some in-person classes, most of our student learning will be done online. We wanted to share some helpful hints for students to consider if you are interested in enrolling online. After reading through the hints, if online learning looks like a good fit for you, please fill out the interest form and we will follow up with you on how to get started.
The virtual classroom may be new to some students, and it might feel very different from in-school classes. Although online classes require the same commitment and energy as in-school classes, there are specific strategies to help in an online environment. Succeed in your online education by employing some of the strategies below:
Talk to your teacher:

Speak up if you have problems! It can be harder for a teacher to know if you're confused or frustrated, so if you are having troubles, communicate with your instructor immediately.
Communicate the right way:

To avoid delays, make sure you know

how

to contact your teachers or school staff. Make sure you have the right emails or phone numbers, and know the times the teachers and staff are available to communicate with you.
Write clearly:

To avoid confusion, make sure you take your time when communicating with teachers and students. Write in full, grammatically correct sentences, and avoid informal writing. Whether it is a phone call or an email, remember to always treat everyone with respect and courtesy.
Manage your time:

It can be easy to procrastinate or become distracted without a normal in-class routine. Make sure to develop good habits, stick to a schedule, and hold yourself accountable. Plan enough time in your day for class, so that you are never rushed to complete assignments.
Know how to use your computer:

Online students need a basic understanding of technology to feel comfortable. If you are struggling with basic computer skills, contact your instructor and tell them. They may be able to direct you to learning modules online or help you directly.
Create a good study space:

In addition to good time management, having a peaceful place to consistently study is important. Find a place away from distractions, such as a loud TV or family. Silence or turn off your cell phone, and don't become distracted by the internet or video games. Make sure you have a good chair to avoid back and hip pain. Set up good lighting to avoid eye fatigue, and try to get up occasionally to stretch your legs.
Get organized:

Create reminders for assignments and use a calendar to create a schedule. Organize your study area. Take notes, bookmark important material, and have an organizational system to find what you need to succeed.
Create online study groups:

Ask classmates to join you in an online study group. Discuss assignments and practice material over video chat. This is also a great way to socialize and stay in touch with in-class friends!
Remember that online school is real school:

Stick to a school schedule! Just like with an in-person class, eat a good meal before attending your online class. Shower and get dressed. Turn off or silence your phone. Tell friends and family that you cannot be bothered during your class time. By preparing for an online class just like you would for an in-person class, you can start your class in the right mindset.
Caileena Lind, 2020
ABE Volunteer and Outreach Assistant Coordinator