Return to Headlines
Adult basic education students go the distance to learn, teach and care for others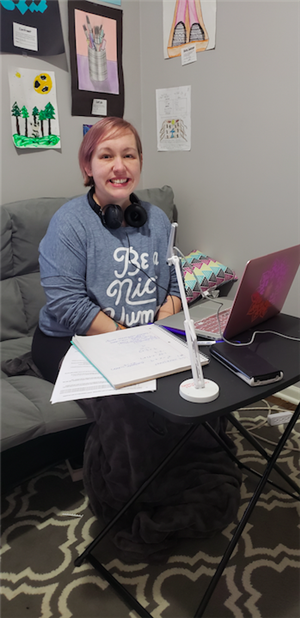 Distance learning began for K-12 students last week, and adults enrolled in education programs dove in, too. Anoka-Hennepin Community Education partners with eight other community education programs in the north metro to offer free adult basic education (ABE) classes for adults ages 17 and up who are not enrolled in a secondary school program develop basic skills. Together, the community education programs are called "Metro North ABE."
Adult basic education classes can help adult students improve basic reading, writing, math and computer skills, earn a high school diploma or a GED, and learn or improve English language skills.
Amber Delliger, Metro North ABE teacher, was recently recognized as one of the 36 teachers in the state to be nominated for "Minnesota Teacher of the Year," and we were able to catch up with her to see what her new virtual classroom looks like, and how distance learning works for our adult students.
Adults are students - and teachers
"I am incredibly confident that the teachers across Minnesota are doing everything they possibly can to get meaningful learning into the hands of their students however possible," Delliger said. "I'm also confident that we will learn so much about this process and come out with some really cool ideas to explore more in the future."
With experience teaching online GED courses and running teacher professional development remotely for years, Delliger has been hopeful that her background and past opportunities can help her adult students with not just their own educational journey - but their families, too, as they work to support their own children with distance learning at the same time.
"In my role working with adults, we are doing our best to help them move forward in their academic and career goals while still maintaining their health and their sanity. Right now, our students have so much on their plate: caregiving, working - or being suddenly out of work - helping their children continue learning; all while trying to keep going to school," Delliger acknowledged. "This is uncharted territory and I am proud of [my students]."
Real-world experiences and resources
Metro North ABE students don't always need basic reading, writing or math skills, but look to the program for guidance in developing workplace skills, or the skills to get a better-paying job. In addition to providing academic tools and continuing to teach students online, teachers are working hard to connect adult students to community resources that are available for food, housing, internet and other necessities.
In a season of uncertainty, Delliger chooses to focus on and demonstrate kindness. "We are doing the best we can as teachers to show humanity in this situation. My own kids are interrupting my video lectures, I'm sharing the experience of navigating my kiddo's lessons while trying to make materials for my own students," Delliger relates. "I'm sharing how it's key to keep our priorities clear - the health and the wellness of [themselves and] their family should come before math class," she reiterates.
"The last thing I want for any student out there right now is to get a negative experience around school. This is not a normal time and while our students will likely remember less of the content, they will remember how we loved them, cared for their wellbeing, and treated them with respect and grace.That's the most important thing to me."
To learn more about Metro North ABE, or to start classes, visit www.metronorthabe.org.