Return to Headlines
Healthy Options for Students at Blaine Learning Lab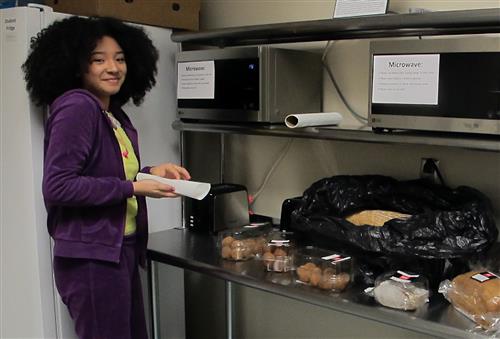 After months of planning and coordination, the Blaine Learning Lab proudly rolled out it's new student kitchen area on November 6th, 2019.
In the past, learners did not have an area to store food brought from home or a place to heat up a meal onsite. Many of our working learners come straight to evening classes from their jobs without stopping at home first, or they stay after morning class to attend afternoon sessions. This meant they could go many hours without eating, leading to poor concentration in class.
Recognizing a need to provide additional resources, the Blaine Learning Lab Wellness Committee teamed up with the Anoka County Statewide Health Improvement Partnership program to create a space open to learners that is equipped with the basics needed to help keep them on the road to good health.
Grant funding was used to purchase a refrigerator, microwaves, toasters, cutlery, dishes, storage units, cleaning supplies, etc. The students are responsible for maintaining the space and keeping everything neat and tidy.
Through work with the county, the Blaine Learning Lab was also able to build a new partnership with the Salvation Army site that is co-located in the Human Resources of Anoka County building. Every Wednesday the Salvation Army donates a cart full of groceries to stock the kitchen area with healthy food that learners can prepare at school. The learners are given fresh fruits and veggies, different bread items, and occasional treats.
When asked about the new supplies and food items, one learner had a big smile on her face. "School used to be good. Now, school is perfect!"
The goal of the Statewide Health Improvement Partnership (SHIP) is to help Minnesotans live longer, better, healthier lives by reducing the burden of chronic disease. SHIP strategies are designed to reduce the number of Minnesotans who use or are exposed to tobacco and who are obese or overweight.
Strategies that promote health and wellness through increased physical activity, improved access to nutritious foods and decreased tobacco use can be the seed of change for individuals and their families. Lifestyle changes that promote health can help prevent immediate consequences related to obesity and tobacco use in addition to longer-term chronic health problems. Community efforts to assist its citizens in attaining their full potential and good health work by providing them with the skills, social support, and environmental reinforcements they need to adopt long-term healthy behaviors. This can lead to reduced acute and chronic disease as well as reduced health care costs in Minnesota.