Return to Headlines
Pat Adams receives Outstanding Leadership and Service Award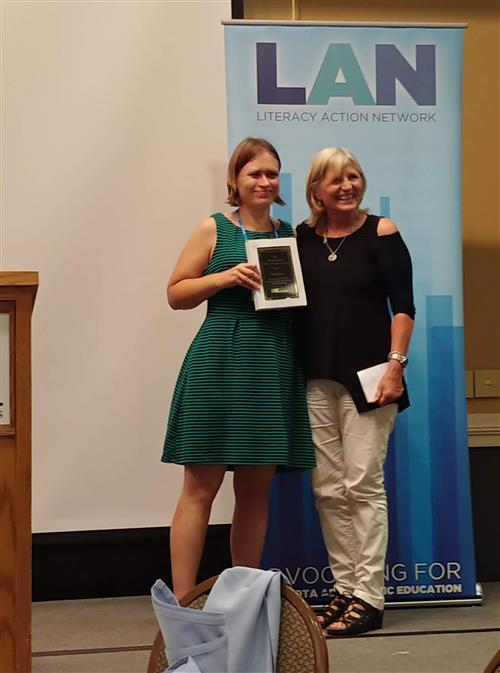 Pat Adams, who recently retired from Metro North ABE, received the Outstanding Leadership and Service Award from Literacy Action Network during the award banquet at the annual Summer Institute conference.
For 26 years, Pat Adams was an advocate for adult learners and a leader in supporting strong programming to meet the varied needs of the adult learners in a variety of settings. For the last ten years, she led the Metro North ABE consortium as an Anoka-Hennepin Community Education Assistant Manager.
Pat has made a difference by her deep involvement with the Metro North ABE consortium staff, volunteers, and students and beyond. Whether in correctional facilities, one room schoolhouses, on college campuses, or in year round leveled class programs, Pat is aware of learners' needs and supportive of the program supervisors who steer the work of site staff and volunteers. Through her support of a great variety of programming and partnerships (with K-12 schools, area post-secondary institutions, employers, county services and workforce centers, other ABE consortia, and special programs), Pat has demonstrated outstanding service and achievement through her work with Metro North Adult Basic Education.
Pat was involved in the West Hennepin Area Managers group for many years, sharing resources and strategies among programs. A unique contribution to other sites has been her work on budget projections. She actively collects information on end of year student contact hour projections from throughout the state to determine an expectation of reimbursement rates. This information is shared widely with ABE managers to help with budget planning. Also, on a state level, Pat was very involved with Literacy Action Network for many years. She always helped out with the ABE Summer Institute; organizing vendors for the event for many years, and co-chairing the conference. Her involvement in Literacy Action Network grew and she eventually became President, leading the statewide professional membership organization for two years.
We are grateful for her many years of service in our community and happy to see her receive this award. Congratulations, Pat!