Return to Headlines
Typing helps Cham's story come to life in Journeys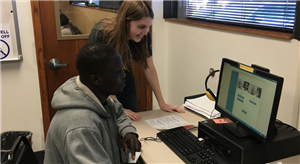 "Learning the computer is important," Cham tells me as he sits at his usual place in the corner of the computer lab. "It makes everything in life easier. Everything." For this reason, despite working full time and attending English classes four days a week, Cham finds time to attend the computer classes I teach as an AmeriCorps member in the Community Technology Empowerment Project.
Ever since arriving in the United States from a refugee camp in Kenya, Cham has been attending English language classes at the Columbia Heights/Fridley Adult Education Center. His goal is to get his GED and then attend technical college, and for that, he needs to improve his computer skills. Ultimately, Cham wants to get a job as a rehabilitation technician or work in construction.
Cham is a diligent worker, taking down notes and saving every handout I give him at both the email and Microsoft Word classes. He wants to become a better writer so he can be prepared for future coursework. Together, we reviewed all the functions of the ribbon on Microsoft Word, and practiced editing a document. After weeks of studying, he successfully passed the Microsoft Word Northstar Digital litearcy Assessments. He brushed off my praise modestly, but his wide grin and giddiness as he accepted the certificate were enough to show he knew how much of an accomplishment it was.
Along with the rest of the students in his class, Cham submitted a story to Journeys, an anthology of adult learners' writing from across the state of Minnesota. We worked together to edit it, culling the harrowing tale of his journey from a village in Ethiopia to being relocated to the United States down to a mere 400 words. It was hard work to compress such a long story into so few words, but Cham admitted he was proud of the result. He was one of the first to raise his hand to read his story to the rest of the students
at our school during a school-wide celebration.
Recently, we received word that Cham was among the 60 authors from our site to have their work published in the 2018 version of Journeys.
"A published author," Cham's Level 5 teacher says, impressed. "What will you do next?"
Cham shrugs. "I need to keep practicing my typing."
For now, Cham arrives on time to his class every morning, always with a smile on his face. I ask him if he likes his current job, working at Sam's Club. He nods his head. "Yes, because they make sure I can always go to school."
The Columbia Heights Fridley site is currently seeking a CTEP volunteer for the 2018-2019 school year. To apply visit their website. See Kaitlyn's original story published here:
Kaitlyn Schmaltz, CTEP AmeriCorps member at CHF